In End Times, you play as a Survivor, someone who can switch consciousness with themselves ten years into the past or ten years into the future.  When you travel to the future, you find yourself in the midst of an apocalypse poised to wipe out all of humanity.  Can you use your power to move back and forward through time to find out what caused this apocalypse and prevent it?  And what if the apocalypse is somehow capable of fighting back, sending nearly unkillable monsters back in time to stop you?  And what if you finally do stop the apocalypse, only to find another one has risen up to take its place?
End Times is a complete role playing game, with everything needed to play, including three introductory adventures.
End Times comes in two versions: one using Vajra's Organic Rule Components ruleset, the other using the Powered by the Apocalypse rules.  Any purchase of the End Times games gives you PDF copies of both versions.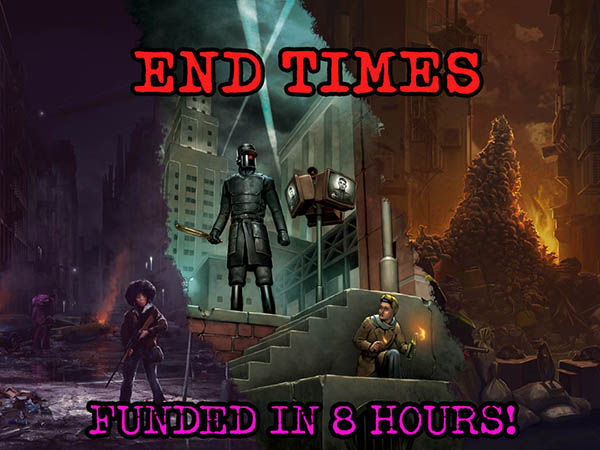 Buy the Printed Book
$34.95 +shipping (fulfillment by Lulu)

Choose your cover:
| | | |
| --- | --- | --- |
| 1910s – Poisoned World Cover | Buy ORC Version | Buy Pbta Version |
| 1920s – Slaves to the Machine Cover | | |
| 1930s – Terminal Depression Cover | | |
| 1940s – Boot in the Face Cover | | |
| 1950s – Plastic Smiles Cover | | |
| 1960s – Helter Skelter Cover | | |
| 1970s – Real Horrorshow Cover | | |
| 1980s – Hostile Takeover Cover | | |
| 1990s – Real Life Cover | | |
| Nature Resurgent Cover | | |
| Forever Night Cover | | |
| Shelter in Place Cover | | |
| Deep Fake Cover | | |
| Trash Flood Cover | Buy ORC Version | Buy Pbta Version |