The Burn Immediately message board was first created by early Vajra playtester and friend of the company, Nick "Eeyore!" Page in 2004.  Nick later handed control over to Vajra. 
Burn Immediately was named after the mature-subjects warning in the first pages of Fates Worse Than Death, Vajra's first game, that advised the book should be burned.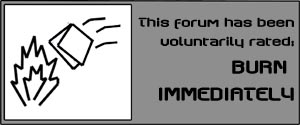 For many years, Burn Immediately was a vibrant hub of the Vajra Enterprises community and a place where Vajra creators could interact with players.  It was also a place where several play-by-post games were held.  
As years went on, less players used Burn Immediately to interact with the company and community.  Problems with various message board and web hosting services meant the contents of Burn Immediately were lost more than once.  Increasingly, the forum started to feel to us like something that served few while taking time away from creating new content.  When Burn Immediately was lost in August 2020 because of a failure by the company that did our web hosting, the decision was made not to ressurect it.
We hope that Vajra readers and players will still interact with each other and with us in the following ways:
Post about Vajra games on whatever internet spaces you go to discuss gaming.  In our experience, wherever you talk about Vajra you'll find others who have read and played our games.
Reach out to Vajra's Creative Director at creative [aht] vajraenterprises [dawt] com.  We're always happy to hear from you!
After many years of burning brightly,
Burn Immediately has burned itself out.